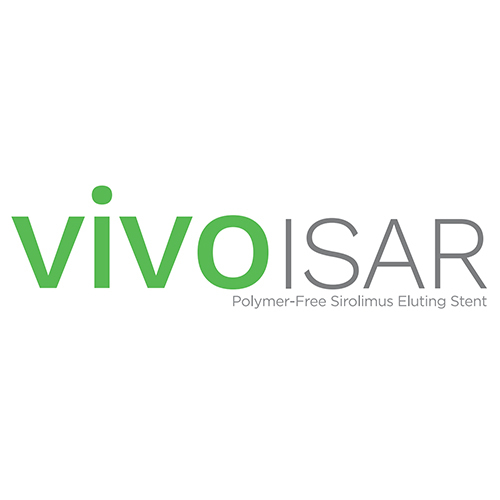 Price And Quantity
100 Unit

1 onwards INR/Unit
Trade Information
100000 Unit Per Month

1-7 Days
Product Description
VIVO ISAR is a Dual Drug Polymer Free Coronary Drug Eluting Stent
The Dual Drug Technology has- Sirolimus and Probucol. Probucol is an antioxidant with enhanced anti-restenotic efficacy used as a component of a stent coating matrix. Its high lipophilicity retard the release of sirolimus ensuring optimal release kinetics of this Anti-restonotic drug. Sirolimus is a well-studied and clinically proven immunosuppressant used extensively in Drug Eluting Stent.
The Stent platform is of Cobalt Chromium with Microporous Stent Surface. The patented technology of micropores acts like reservoirs for delivering the drug to the targeted site. Micropores use vander-wall forces for the controlled released of drug.
The Dual drug matrix is coated on the Abluminal side which ensures better Endothelialization and less systemic exposure of the drug.
Shellac Resin is the top coat of the stent for smooth surface which prevents dual drug matrix break ups during stent expansion.
VIVO ISAR is one of the longest studied DES with 10 years of data establishing its safety and efficacy published in JACC.
Ordering Information
Length Ø(mm)

VIVO ISAR Reference no.

Diameter (mm)

2.00 mm

2.25 mm

2.50 mm

2.75 mm

3.00 mm

3.50 mm

4.00 mm

8.00

VISR2008

VISR2208

VISR2508

VISR2708

VISR3008

VISR3508

VISR4008

12.00

VISR2012

VISR2212

VISR2512

VISR2712

VISR3012

VISR3512

VISR4012

16.00

VISR2016

VISR2216

VISR2516

VISR2716

VISR3016

VISR3516

VISR4016

18.00

VISR2018

VISR2218

VISR2518

VISR2718

VISR3018

VISR3518

VISR4018

21.00

VISR2021

VISR2221

VISR2521

VISR2721

VISR3021

VISR3521

VISR4021

24.00

VISR2024

VISR2224

VISR2524

VISR2724

VISR3024

VISR3524

VISR4024

28.00

VISR2028

VISR2228

VISR2528

VISR2728

VISR3028

VISR3528

VISR4028

32.00

VISR2032

VISR2232

VISR2532

VISR2732

VISR3032

VISR3532

VISR4032

36.00

VISR2736

VISR3036

VISR3536

VISR4036

40.00

VISR2740

VISR3040

VISR3540

VISR4040

44.00

VISR2744

VISR3044

VISR3544

VISR4044

48.00

VISR2748

VISR3048

VISR3548

VISR4048
Compliance Chart
Balloon Ø(mm)

Inflation pressure (atm)

NP

RBP

6

7

8

9

10

11

12

13

14

15

16

17

18

19

20

Ø 2.00

1.83

1.87

1.90

1.93

1.93

2.00

2.03

2.06

2.10

2.13

2.16

2.20

2.23

2.26

2.29

Ø 2.25

2.08

2.11

2.14

2.18

2.18

2.25

2.28

2.31

2.35

2.38

2.42

2.45

2.48

2.52

2.55

Ø 2.50

2.33

2.36

2.40

2.43

2.43

2.50

2.53

2.57

2.60

2.64

2.67

2.70

2.74

2.77

2.81

Ø 2.75

2.58

2.61

2.65

2.68

2.71

2.75

2.78

2.81

2.85

2.88

2.91

2.94

2.98

3.01

3.04

Ø 3.00

2.81

2.85

2.89

2.92

2.96

3.00

3.04

3.07

3.11

3.15

3.18

3.22

3.26

3.29

3.33

Ø 3.50

3.29

3.34

3.38

3.42

3.46

3.50

3.55

3.59

3.63

3.67

3.71

3.76

3.80

3.84

3.88

Ø 4.00

3.75

3.80

3.85

3.90

3.95

4.00

4.06

4.11

4.16

4.21

4.26

4.31

4.36

4.41

4.46
TRANSLUMINA THERAPEUTICS LLP
Other Products in 'Stent System Device' category