Send Inquiry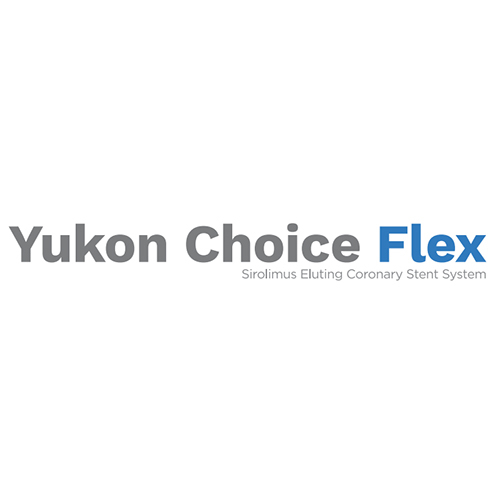 Price And Quantity
100 Unit

1 onwards INR/Unit
Trade Information
100000 Unit Per Month

1-7 Days
Product Description
Yukon Choice Flex Advanced Platform for Redefining Flexibility in tortuous anatomy
Yukon Choice Flex is a Biodegradable Polymer Coronary Drug Eluting Stent. The Drug is Sirolimus which is a well-studied and clinically proven immunosuppressant.
The Stent platform is of Cobalt Chromium with Microporous Stent Surface. The patented technology of micro pores acts like reservoirs for delivering the drug to the targeted site. Micro pores use vander-wall forces for the controlled released of drug. Microporous surface also reduce the polymer load to 1/4

th

.
The Dual drug matrix is coated on the Abluminal side which ensures better Endothelialization and less systemic exposure of the drug.
Shellac Resin is the top coat of the stent for smooth surface which prevents dual drug matrix break ups during stent expansion.
Product Matrix / Ordering Information
Stent (mm)

Stent length (mm) & Article number

8

12

16

18

21

24

28

32

2.00

YCFX2008

YCFX2012

YCFX2016

YCFX2018

YCFX2021

YCFX2024

YCFX2028

YCFX2032

2.50

YCFX2508

YCFX2512

YCFX2516

YCFX2518

YCFX2521

YCFX2524

YCFX2528

YCFX2532
Stent Diameter (mm)

Stent length (mm) & Article number

8

12

16

18

21

24

28

32

36

40

2.75

YCFX2708

YCFX2712

YCFX2716

YCFX2718

YCFX2721

YCFX2724

YCFX2728

YCFX2732

YCFX2736

YCFX2740

3.00

YCFX3008

YCFX3012

YCFX3016

YCFX3018

YCFX3021

YCFX3024

YCFX3028

YCFX3032

YCFX3036

YCFX3040

3.50

YCFX3508

YCFX3512

YCFX3516

YCFX3518

YCFX3521

YCFX3524

YCFX3528

YCFX3532

YCFX3536

YCFX3540

4.00

YCFX4008

YCFX4012

YCFX4016

YCFX4018

YCFX4020

YCFX4024

YCFX4028

YCFX4032

YCFX4036

YCFX4040
Compliance Chart
Balloon (mm)

Inflation (bar/105 Pa)

NP

RBP

6

7

8

9

10

11

12

13

14

15

16

17

18

19

20

2.00

1.83

1.87

1.90

1.93

1.93

2.00

2.03

2.06

2.10

2.13

2.16

2.20

2.23

2.26

2.29

2.25

2.08

2.11

2.14

2.18

2.18

2.25

2.28

2.31

2.35

2.38

2.42

2.45

2.48

2.52

2.55

2.50

2.33

2.36

2.40

2.43

2.43

2.50

2.53

2.57

2.60

2.64

2.67

2.70

2.74

2.77

2.81

2.75

2.58

2.61

2.65

2.68

2.71

2.75

2.78

2.81

2.85

2.88

2.91

2.94

2.98

3.01

3.04

3.00

2.81

2.85

2.89

2.92

2.96

3.00

3.04

3.07

3.11

3.15

3.18

3.22

3.26

3.29

3.33

3.50

3.29

3.34

3.38

3.42

3.46

3.50

3.55

3.59

3.63

3.67

3.71

3.76

3.80

3.84

3.88

4.00

3.75

3.80

3.85

3.90

3.95

4.00

4.06

4.11

4.16

4.21

4.26

4.31

4.36

4.41

4.46
Technical Data
Crossing Profile ( 2.5 mm)

0.035/0.89 mm

Strut Thickness ( 2.5 mm)

0.0027/68 m (SV)

0.0031/79 m (MV)

Metallic Surface Area

9.1-14.9%

Balloon Marker Material

Platinum/ Iridium

Entry Profile

0.016/0.41 mm

Proximal Shaft Diameter

1.9 F

Distal Shaft Diameter

2.7 F

Recommended Guide Wire

0.014

Guiding Catheter

Min. 5 F
Enter Buying Requirement Details
Other Products in 'Stent System Device' category